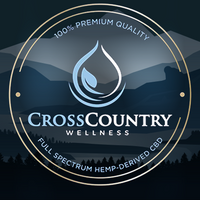 Buy Premium CBD Products Here
Owned by Cannabis Activist of the Year Las Vegas 2020
Supported by a team that has dedicated their lives to educating the public on the uses of CBD.
As a commitment to have some of the best, and purest CBD around, straight out of Las Vegas, Nevada, we want to be transparent as possible with our products! 
We have all of our Certificates of Analysis for every one of our products on our site for the public to see. We are extremely proud of the fact that we are able to provide some of the best quality CBD out there, and for an EXTREMELY competitive price !
Developed by our award winning US Based team.
Who We Are
We started Cross Country Wellness with one thing in mind. Providing the highest quality CBD products to our customers. We do this by working with one of the best suppliers and extraction companies in Nevada and the USA. All products are lab tested, under strict compliance. All our CBD is made from USA-grown hemp.
The CBD crystalline isolate used in our products is lab tested and contains zero THC. That means no psychoactive side effects or "high", just effective relief.
Why do we want our customers to buy our products from people that work directly in the cannabis and hemp industry?
Because it is our mission to educate patients and customers on the benefits of CBD for long term health and wellness. Since we are in the industry and know the industry, we can pass that direct knowledge to our customers.
We are not paid spokespeople. We represent the cannabis and hemp industry. I would certainly want to buy my CBD from those that are well versed and educated on the benefits.
In other words, many companies say they use the best suppliers and extraction companies. At Cross Country Wellness we will know the name of the extractor who makes your CBD. We only work with the best. How do we know they are the best? Because We are in the industry.
Contact:
We would love to hear from you!
Please share your experiences from using our products. If you have any questions or concerns regarding the brand, please let us know. Someone will get back to you as soon as possible.
Interested in purchasing our products?
Send us a message and we will find the subscription plan that best fits your needs.
For wholesale inquiries or to make a purchase, please send us a message.
See what our Endurance Athletes are saying about Cross Country Wellness
We have a large group of endurance athletes that have found out that our Cross Country Wellness products have become a vital addition to their supplement regimen.